EL-HP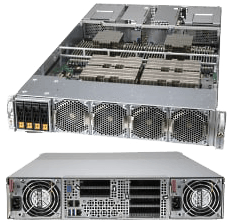 A high-performance fault-tolerant server designed for tasks that require a lot of computing power. Hybrid architecture based on AMD EPYC CPU and NVIDIA A100 GPU allows you to achieve a performance density of 624 teraflop/s on 2U (in tasks using BFLOAT16/FP16 number representation formats).
Applications:
Working with Big Data – generating analytical reports, processing disordered sets of large volumes of information.
Mathematical modeling and simulations in science, medicine, design – decoding DNA, studying the structure of substances and materials, medicines.
High–precision forecasting - making weather forecasts, assessment and search for new mineral deposits.
Development of artificial intelligence applications – separate AI programs and robotics.
Cryptography – ensuring the confidentiality and integrity of data.
Statistical data processing – evaluation and grouping of observations, calculation of averages and indices.
Working with complex graphic objects – animation rendering, special effects creation, film production.
The presented server solution is easy to install and convenient to use due to the logical arrangement of components and power supplies. Scaling is possible both by installing a larger number of data center servers, and by using more powerful and capacious components.
Dual AMD EPYC 7002/7003 Series Processors
8TB Registered ECC DDR4 3200MHz, 32 DIMMs
4 PCI-E 4.0 x16, 1 PCI-E 4.0 x8
Dual-port 10GbE
4 SATA3 ports
2U Form Factor
4 hot-swap 2.5" drive bays
2200W Redundant Power Supplies
4 hot-swap heavy-duty fans