EL-GP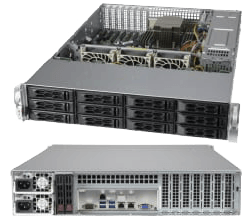 An efficient server intended for storage of passive, "cold" and rarely changed data: backup copies, databases, and media content. It represents an effective solution for hierarchical tiered storage systems. With a high-capacity HDD, it is possible to attain 236 TB (in RAID5 mode, including resilience costs) or 280 TB (in direct disk space use mode, without ensuring resilience) storage capacity value per server.
The server can also be used as a cost-effective network device due to its vast expansion options through PCIe devices, and as a way to allocate different loads within small organizations.
The server solution is easy to install and easy to use thanks to the logical arrangement of components and power units. Scaling is possible both by installing more data center servers and using more powerful and higher-capacity components.
Dual AMD EPYC 7002/7003 Series Processors
8TB Registered ECC DDR4, 32 DIMMs
1 PCI-E 4.0 x16
Dual-port 10GBase-T & Dual-port 10G SFP+ via Intel® X710-TM4
24 U.2 NVMe Support
2U Form Factor
24 hot-swap 2.5" U.2 NVMe Drive Bays
1600W Redundant Power Supplies
4 heavy-duty PWM fans