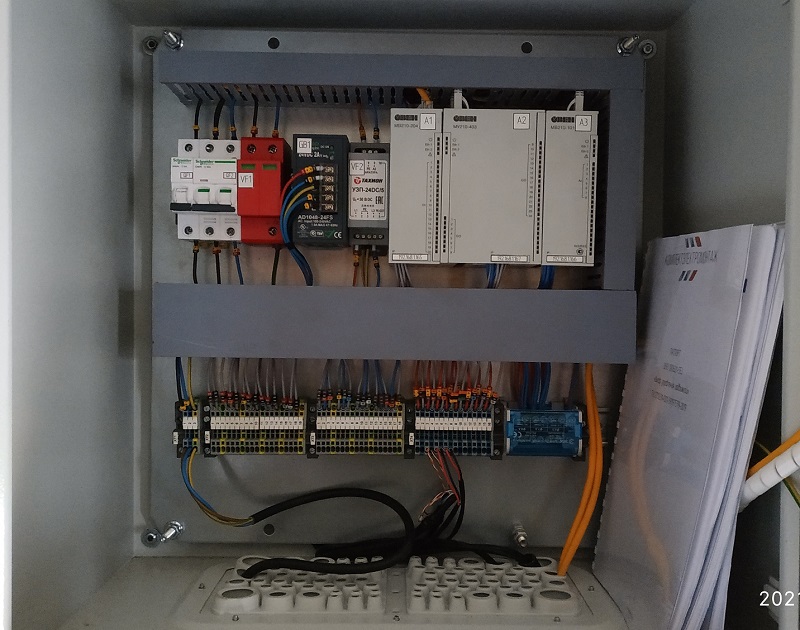 In Chermoshnoy village, the Kursk Region, a water treatment process has been automated for the enterprise producing baby food products ensuring uninterrupted water supply.
A block diagram was developed based on OWEN equipment that provided a distributed approach to monitoring remote facilities. Water supply is controlled by circulation pumps, while water is distributed by means of electric valves. Wells for drinking water supply are equipped with automatics featuring the function of motor smooth start.
The enterprise has a dedicated local optical network that allows for data exchange between devices. The system uses two 4D PLC110-MS4 [M02] controllers with the execution environment MasterSCADA, three OWEN SP307-R touch control panels, and OWEN Mx210 I/O modules. The controllers are connected to the cloud and their values are displayed on a web interface creating an additional reliability level for visualization and system control.
The system ensures drinking water monitoring according to the flow pattern. A notification is sent when water level drops to emergency values or in case of an unexpected shutdown.
Developer – Fast Projects Company, Moscow.